Before anything else, I just want to say that having no photo editing software is a suk. (Paint is inadequate to our needs.)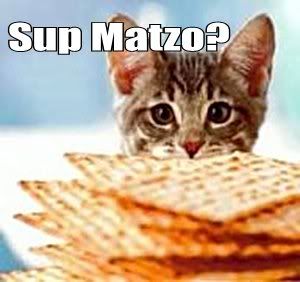 Photo ripped off from a card my mom sent me. It was brand name 'Papyrus', with the text "Waiting for Elijah", which I had to make so you could read it from the scan. Cat's original words were "They're not slipping me those matzoh balls again. As soon as that door opens I'm out of here."
Oh, for double fuck's sake, there's a blotch on the damn thing. My old computer moved at the speed of continental drift, but I could edit a picture on it. This is why I don't lolcat anymore.